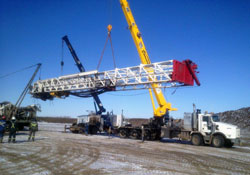 Spectra Oilfield Service employs Journeymen Picker Operators with either Alberta Crane and Hoisting Equipment Operator (Boom Truck Operator) certification or Saskatchewan Boom Truck Operator "A" certification. We also employ Winch Tractor Operators. Picker Operators and Winch Truck Operators are required to drive commercial vehicles therefore must have Class 1 Driver's Licenses and have previous oilfield experience.
We are not currently hiring, however, we are most often looking for swampers to assist the picker operators. Applicants with valid certification and oilfield experience are preferred. Download our application form.
Swamper
Skills / Knowledge / Abilities:
Ability to work in a fast pace environment
Knowledge in oilfield related tools and equipment
Work well with others
Ability to follow direction
Duties Include:
Spot vehicle while getting into position or reversing
Put pads down for outriggers
Get out equipment/rigging and put equipment/rigging away in proper location after use
Assist driver with cargo securement – Undo boomers and chains, cargo securement straps
Inspect for defects, hook-up and remove rigging such as slings, shackles, lifting chains
Complete pre-job meeting/hazard id/controls form
Clean vehicle interior, exterior
Assist driver/operator with daily pre-trip/use inspections
Assist driver/operator in making sure vehicle and equipment is equipped with proper materials, rigging, and equipment
Assist driver/equipment operator with servicing and maintaining vehicle/equipment
Assist with hooking and unhooking trailers
Use a tagline to control load
Provide hand signal guidance to picker operator
Possibly riding in man-basket to hook up and unhook slings
Wearing appropriate PPE and working in a safe manner
Other various duties as required
Experience:
Certifications Required:
H2S alive
First Aid – at minimum Standard first aid, CPR/AED level C
Fall Protection
Petroleum Safety Training
Other training is provided by Spectra Oilfield Service thru our in-house training program
Other Requirements:
Current valid class 5 driver's license
Ability to pass a drug test
Excellent inter-personal and communication skills
Locations:
Lloydminster area – hours of work vary. 12 hour days are common. Overtime after 10 hours. Must have your own accommodations in Lloydminster or area. Must have your own transportation to and from Spectra Oilfield Service yard
Rate of Pay:
If you show an aptitude for operating a picker, you may be considered for apprenticeship as a boom truck operator. This will involve obtaining your Class 1 driver's license, operating the picker controls for the regulated number of hours and taking the apprenticeship exam through the government. It is important to have a clean driver's abstract if you plan to eventually become a picker operator.
Picker Operator
Skills / Knowledge / Abilities:
Ability to work in a fast pace environment
Knowledge in oilfield related tools and equipment
Work well with others
Ability to follow direction
Duties Include:
Safely drive and operate 30-45 Ton Picker Truck
Maintain inspection and repairs to truck and crane as necessary
Inspect for defects, hook-up and remove rigging such as slings, shackles, lifting chains
Cargo securement
Accurately complete all necessary daily paperwork
Maintain a legal Driver's logbook
Adhere to all policy and instructions provided
Take part in all safety meetings
Operate company vehicles and equipment in a professional , safe and courteous manner
Wearing appropriate PPE and working in a safe manner
Clean vehicle interior, exterior
Other various duties as required
Experience:
Certifications Required:
H2S alive
First Aid – at minimum Standard first aid, CPR/AED level C
Fall Protection
Petroleum Safety Training
Other training is provided by Spectra Oilfield Service thru our in-house training program
Valid class 1 driver's license
Other Requirements:
Current valid class 1 driver's license
Clean driver's Abstract
Current apprenticeship registration or journeyman boom truck or mobile crane ticket
Ability to pass a drug test
Excellent inter-personal and communication skills
Locations:
Lloydminster area – hours of work vary. 12 hour days are common. Overtime after 10 hours. Must have your own accommodations in Lloydminster or area. Must have your own transportation to and from Spectra Oilfield Service yard
Rate of Pay: